Not all massages are created equal. Have you ever wonder what it takes to find that one place that gives you the best massage or facial you've ever experience? At New Serenity Spa we offer the
best massage in Scottsdale
. It is all a matter of protocol.
We are starting a 3 part series to show our clients our protocol. This is a process setup to make sure that you receive the best massage experience you've ever had when you visit New Serenity Spa.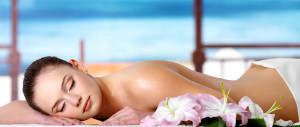 The Serenity Massage is a medium pressure massage. We are known for providing one of the best massage in Scottsdale and our Serenity Massage is our claim to fame. Long strokes are used with this massage to promote a deeper state of relaxation and tension is released on problematic areas using medium pressure on trigger point areas throughout the body.

Before beginning any therapeutic massage make sure there are no contraindications preventing the guest from receiving a treatment. Review the intake form and sign at the bottom. Discuss problematic areas with the guest. It is VERY IMPORTANT that you pay very close attention to what the guest tells you about their style of massage. Sometimes a therapist gets very comfortable with their own technique that they do the opposite of what the guest is requesting. If a guest requests a gentle massage, please use gentle pressure. If a guest needs deep, firm work, adjust your style to serve their needs. All hired therapists should be able to accommodate most requests. Diversity in technique will be a desirable trait and ensure repeat business for the therapist. Make sure client has turned their phone off!!

Before bringing a guest to the treatment room please make sure the room is prepared:
Clean linens
Massage oil/lotion
Biofreeze
Towel Warmer
Warm Towels
Clock
Hand Sanitizer
Kleenex
Garbage can with lining
Bolster
Rolling Stool
Basket for guests belongings
Adjust bed to YOUR level of comfort
Our Serenity Massage protocol is a multi-phase protocol. In our next article, we will cover the phases that have made this one of the best massage in Scottsdale.
At New Serenity Spa, we offer one of the
best and most relaxing massages
in the Scottsdale/Phoenix area. If a massage is not in your immediate future, you may want to consider
our Serenity Facial
. This facial is highly regarded by our
customers reviews
as one of the most relaxing facials in Scottsdale.
Call us now for your next appointment or visit us at our new location
15609 N. Hayden Rd, Suite 138, Scottsdale AZ 85620.
We are located in the Sonora Village Plaza next to Wildflower.
New Serenity Spa
480-998-6991